San Francisco Effect is how the market moves up and down after you get in.
---
Picture getting in your car and you put it in drive, and you expect the car to go up, and it does.

Then the car stops and starts to row back to where you started. You have hesitation in your eyes.

Then the car starts to go up the hill again past where you were before and are now comfortable.

Then the car stops and rows back PAST where you started, you jump out of the car, and what does the car do? It goes up the hill to the top, and you are sitting on the ground.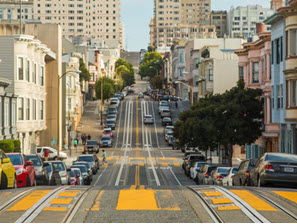 ---
Does this sound like trading to you?
Yes, it does; this is trading. So, we got used to these moves and got comfortable with them.
---
Futures, Options on Futures and Forex trading involves a substantial degree of risk of loss and is not suitable for all individuals. An investor could lose the entire investment or, in some cases, more than the initial investment. Past performance is not necessarily indicative of future results.