Many Alpha Hunters customers, that are day traders, would agree that trading without Alpha Indicators and trading apps would make it difficult and time-consuming. We are not going to say, if you buy Alpha's software, you will make money. But, we will say that trading with Alpha's software will save you lots of time, energy with order placement(s) and Alpha Indicators will give you market views you will NOT find anywhere else. I can't imagine day trading without Go Fish Pro and Alpha Indicators. I would feel lost at best.


I can say this because when the internet goes down or power goes out. I am scrambling to catch up with trades, and all of sudden becomes stressful.
---


A few benefits of using Alpha's software -
Alpha Indicators gives use a view of market momentum and reversal patterns you will not see anywhere else period.
Alpha Smooth Charts are just that...SMOOTH. They take most of the noise out of the markets.
Market Pulse is able to see Momentum and Reversal patterns on Alpha Hunters indicators and trade models on up to 15 different chart time frames at the same time. Save space, save time, and see all the values on one small screen.
Go Fish Pro Trading Apps simply makes it easy to trade. Never have to cancel replace your entry or exit orders again.Know your true average entry price. Calculate the dollar value of your exits without have to use your calculator. Average into and out of positions. Place Blanket Buy and Sell orders with ease. The list goes on and on the benefits of trading with Go Fish Pro.
Matrix Auto Entry is available to line up the stars from Market Pulse. Once every strategy and time frame agrees, the Matrix Auto Entry will send your entry order for you so you don't have to or you were not aware of the entry.
---
The Alpha Hunters Go Fish Pro Apps can remove the hard work of placing orders, cancel replacing orders, moving orders, etc, etc. After using the GFP app, you will discover just how great it is.

We use all the Alpha Hunters trading software each day in our trading.
We would not trade without them!
---


Alpha Hunters Software List -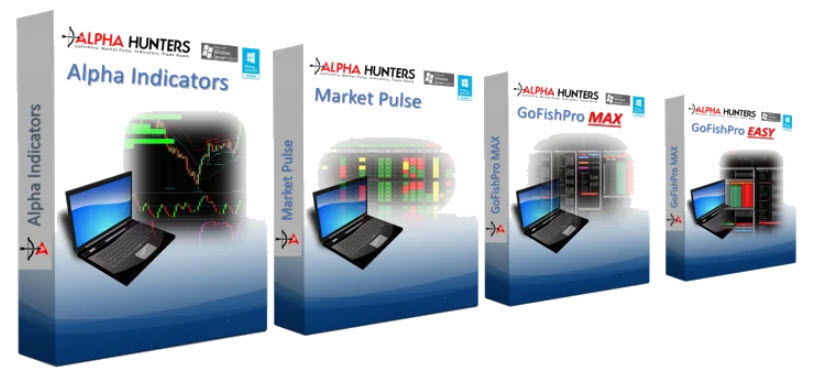 ---
---


Alpha Hunters Trade Models / Education
---
Futures, Options on Futures and Forex trading involves a substantial degree of risk of loss and is not suitable for all individuals. An investor could lose the entire investment or, in some cases, more than the initial investment. Past performance is not necessarily indicative of future results.